Quick and Easy Adaptation Guide
I was going through the Motability web site the other day and found a very useful table giving advice to people about vehicle adaptations.
I am occasionally surprised when customers of ours aren't aware of what is available to them to help them either access or drive vehicles. I'm clearly wrong to be surprised, as it should be down to the mobility industry (that I'm obviously involved in) to make people aware.
That aside, this little table is a good summary of what's out there for people looking to keep using a vehicle despite their disability. So good, that I thought I'd tweak it and blatantly plagiarise it for my latest Motability tip and share it with you.
I'm looking to put something similar on our new Motability Dealer Sheet that will be coming out in Feb/March so that you can share it with you customers.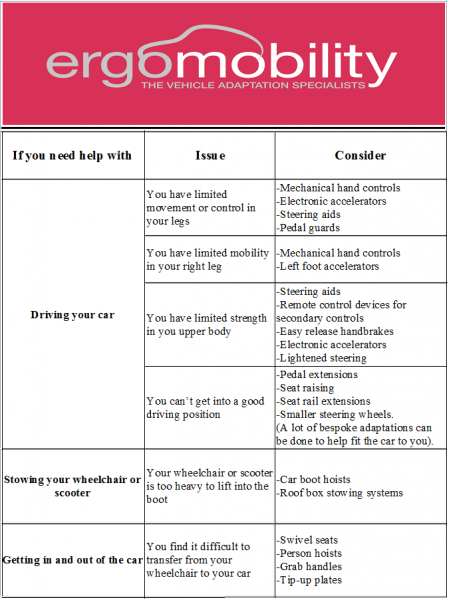 These are some of the most common adaptations available on the Motability Scheme and indeed many of these adaptations are fully or heavily subsidised on the Scheme.
Remember, adaptations are not suitable for every type of car, so it's important to consider which adaptation you need before you choose your car.